Cape Town: Cable Car Rides Colouring Pages
R 9.99
Not everyone likes to climb a mountain – some just like an easy ride to the top. Cape Town's Aerial Cableway offers a most enjoyable journey up Table Mountain. No need to break a sweat as you take in the magnificent views. This set of family-friendly colouring pages features an abstract view of the cable car system, complete with African-styled patterning on the mountain side. (Included in your purchase is a FREE single-class licence to print for school and church educators.)
In stock

Description
Cape Town's Aerial Cableway offers memorable rides to the top of Table Mountain. You can make your way to the top of this magnificent mountain without breaking a sweat – unless breath-taking views get you all sweaty. The Aerial Cableway was founded in 1929, and has been serving South Africans and visitors for almost a decade. This set of colouring pages is all about paying tribute to Cape Town's cable cars.
When you purchase this digital product, you will receive:
a full-size, printable (A4), ready-to-colour design focused on Cape Town's world famous Aerial Cableway. The illustration is abstract and includes African-styled geometric patterning of the mountainside.  This design was created with adults in mind, but is also suitable for teens and children
a full-size, printable (A4), ready-to-colour informational page. The informational page is a great conversation starter, and can be used as a discussion trigger in classrooms or for family dinner.
additional bibliographic and copyright information
This digital (PDF) product has a file size of approximately 2.5 MB. Please ensure that you are able to download a file of this size before purchasing this product, as all digital product sales are final and non-refundable. (This download includes a FREE single-class licence to print for school and church educators.)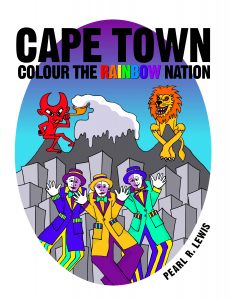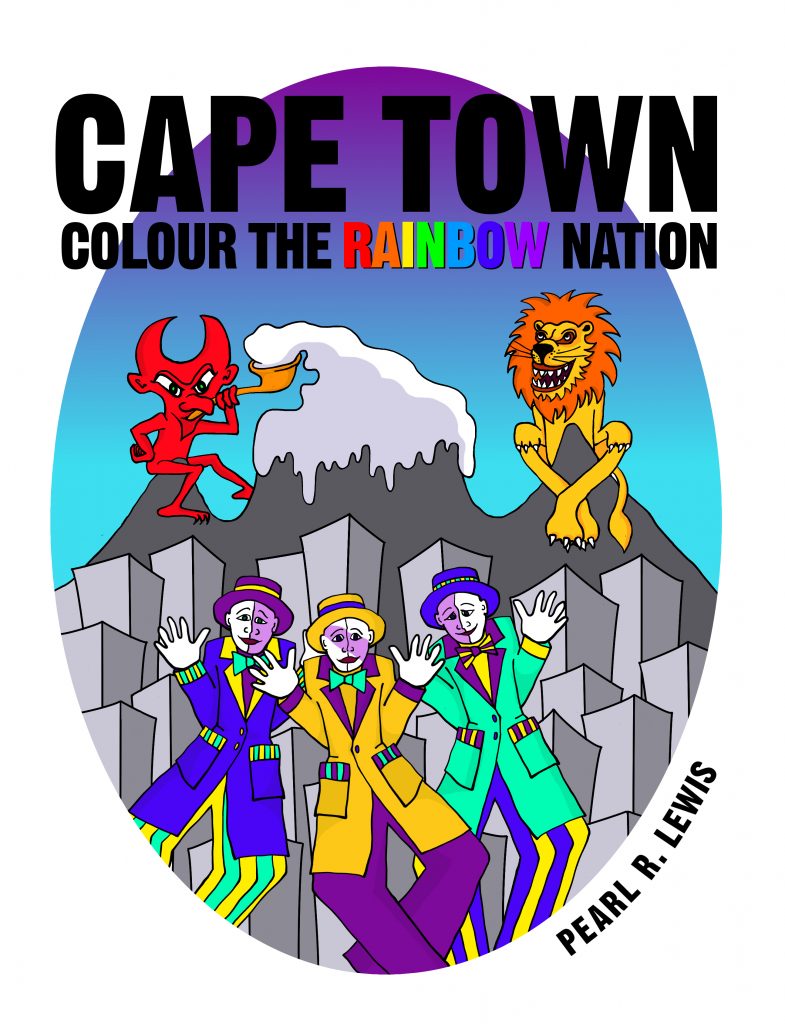 These colouring pages are an extract from the book "Cape Town: Colour the Rainbow Nation" by Pearl R. Lewis. This adult-friendly colouring book celebrates Cape Town in its own unique way. It's a blend of illustrations that range from the tourist hot spots (like Table Mountain) to the little things that matter to the locals. It also contains factual tidbits and the odd urban legend – just to add a little extra colour to the grey matter. The book is a conversation starter, and makes an excellent gift for tourists and South Africans alike. Take a imaginative tour around Cape Town when you put your coloured pencils to work with this book. (Download a FREE SAMPLER version of the book here.)
You can purchase the complete paperback version (ISBN 978-1-365-01811-4) of this from Cape Town's very own online bookstore: Megabooks, or from the international bookstore, Lulu. Find other retailers and read more about this book in the BOOKS section of this website.
"Cape Town: Colour the Rainbow Nation" is the first in the COLOUR THE RAINBOW NATION series. COLOUR THE RAINBOW NATION is a celebration of all things South African: the people, the places, and the experiences that help us remember the past as we continue to plant seeds of hope for the future. Nelson Mandela once described South Africans as being as intimately attached to the soil of South Africa as Pretoria's famous jacaranda trees and the mimosa trees of the bushveld. COLOUR THE RAINBOW NATION creates an opportunity for you and your family to celebrate the spirit and heart of South Africa whether you are already rooted in this beautiful country or simply wish you were.
Only logged in customers who have purchased this product may leave a review.