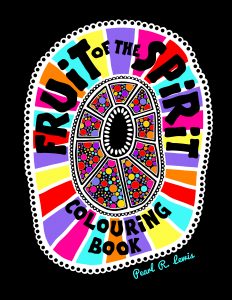 The "Fruit of the Spirit Colouring Book" is a relaxing and colorful way to explore God's Word. You get to tap into the benefits of art therapy as you color, while you simultaneously infuse your spirit with the powerful Word of God.
The book is built upon two, short verses of scripture from Galations. These scriptures give us insight into the very nature of the Spirit of God. They also give us a set of standards by which we are to live. God has given us His Spirit to enable us to live victoriously. God expects us to bear the spiritual fruit that is described in Galations 5.
"But the fruit of the Spirit is love, joy, peace, longsuffering, kindness, goodness, faithfulness,
gentleness, self-control. Against such there is no law." – 

 Galations 5:22-23

This book provides ample opportunity to fill quasi-abstract, retro-styled designs with color. But it also calls you to open your Bible, explore the fruit of the Spirit, engage in self-reflection, and challenge yourself to live the way God wants you to live. "Fruit of the Spirit Colouring Book" can be incorporated into your personal quiet time – grab your colored pencils and turn your time alone with God into a creative adventure filled with discovery of what matters to Him. This book is also suitable for adult and teen social and/or church group activities. Start a church Bible study about the fruit of the Spirit, and get everyone involved in the discussion while they color. Or introduce the topic to your family, and turn your family Bible times into a color fest alive with conversation about the Spirit of God.

The paperback version of the book is perfect-bound. The 34-page, 11″x8.5″ book includes decorative pages at the end of the book where you can add your own study notes.

Sections of the book are also available as mini, printable downloads. These mini books have been especially created for the benefit of groups or classes, although they work just as well for individuals who prefer printing their own pages. You can purchase these digital, mini books from the store on this website. Your purchase includes a single-classroom licence to print copies of the pages for the members of your social or Bible study group.