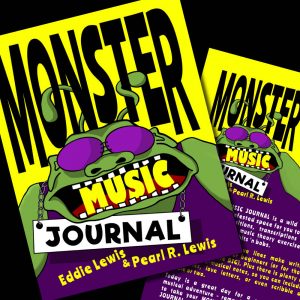 (NOT SO) SCARY MUSIC JOURNAL
The MONSTER MUSIC JOURNAL is a wild and whacky, monster-infested space for you to fill with all things musical: music compositions, transcriptions of your favorite songs, music theory exercises, and other monstrous things that mean something to you (or your music instructor).
MUSICAL PLAYGROUND
The MONSTER MUSIC JOURNAL is a musical playground. The generously spaced staff lines make writing musical notes easy for beginners (or for those who like to live life BIG – and let's be honest: who doesn't like to live life really BIG). Plus, there is plenty of boxed-off writing space for non-musical notes, so you can include song lyrics, love letters, homework assignments, thoughts, poems, or questions to ask your teacher. There is even space for you to scribble or doodle your own family of epic monsters.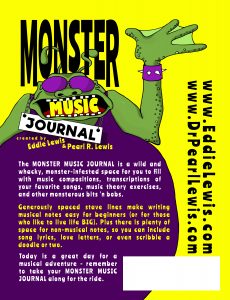 EPIC LINE ART
The MONSTER MUSIC JOURNAL is heavily illustrated with line art monster characters that will tickle the imagination of kids and adults. Every turn of the page presents you with new monsters. Naturally, they are all trying to look grim, but rest assured – they are all very docile and perfectly friendly. And because the illustrations in the book are simple line art, you are free to add color to the manuscript pages and the note writing pages. This is a music journal and not a coloring book, but there is no shortage of things (well, creatures actually) that you can color, if you so wish.
PAGES GALORE
The MONSTER MUSIC JOURNAL (ISBN 9781387601936) is a 52-page, letter sized book. The large 8.5 x 11″ pages make it easy for young musicians to work at a desk or carry the book to class in a backpack or music book bag.
HUSBAND and WIFE CREATIVE TEAM
The MONSTER MUSIC JOURNAL was created by the musician and illustrator husband-and-wife team, Eddie Lewis and Pearl Lewis in 2018. Inspired by the composing efforts of one of Eddie's youngest music students, Eddie and Pearl set out to create a whimsical manuscript paper book that young music students could feel comfortable with. The couple wanted to create manuscript paper that would not only stimulate the imagination (to bring out the best in the aspiring composers), but that would also offer opportunity for the student to add splashes of color or doodles of their own to keep the pages interesting.
HOW TO USE THE MONSTER MUSIC JOURNAL
You can probably think of your own ways to use the MONSTER MUSIC JOURNAL, but in case you need a few ideas, here they are:
Turn dull, repetitive music theory exercises into an adventure at every turn of the page.
Suggest the illustrations as prompts for improvised music.
Give it to your music teacher as a thank you gift.
Give it to your music student as a reward for accomplishing a goal.
Gift it to your fun-loving musician friend.
Use the journal to introduce young musicians to composition and transcription.
Give boring music homework just got a MAJOR upgrade on the fun scale.
The MONSTER MUSIC JOURNAL can be purchased as a PDF (printable) download from the following stores:
Buy the physical (paperback) version of the MONSTER MUSIC JOURNAL from any of the stores listed below. Simply click on your preferred store name, and you will be redirected to the relevant product page. If you prefer to buy from your local book store, simply ask the manager to add this book (ISBN 9781387601936 – perfect bound) to their store inventory.
INTERNATIONAL book stores:
SOUTH AFRICAN book stores:
AUSTRALIAN book stores:
The MONSTER MUSIC JOURNAL offers a blending of manuscript paper and spaces for jotting notes or musical ideas. The pages are illustrated with crazy little creatures – micro monsters, if you will. To keep the journal interesting, page layouts change from page to page. This gallery presents a sampling of some of the pages you can expect to fin in the MONSTER MUSIC JOURNAL.
The MONSTER MUSIC JOURNAL is a fun-filled music manuscript book that will turn music lessons into a learning adventure. Add your own color to the pages to bring your own family of cute monsters to life.