Blessed: Coloring for the Soul is a creative coloring and scriptural discovery experience. This book will lead you on a meditative, soul-soothing exploration of what the Bible has to say about being blessed. At the same time, it will provide ample opportunity to color scripture-inspired, abstract-styled line illustrations. The full version of the book is a hefty collection of over a hundred pages of inspiration. If you need inspiration in smaller doses, consider starting with any of the PARTS booklets: there are five mini e-book PARTS available.
Read more about the mini e-books in the ABOUT section on this page.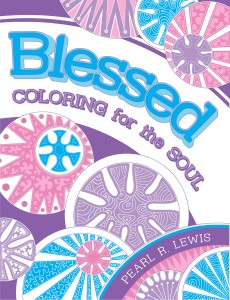 BLESSED: Coloring for the Soul is a meditative Christian coloring journal for teens and adults. Using the perfect form of the circle as the central graphic theme, this book takes the user on a journey through scriptures from the Holy Bible. The scriptural focus is "BLESSING". The full-page designs gracefully weave together scripture and organic, abstract designs. Additional Bible study materials are included for those who want to further explore the topic of being blessed.
BLESSED: Coloring for the Soul is a coloring book where the content is appropriate for all ages, but best suited for adults and teens. (And yes, it's not only for the ladies. Creativity is not gender biased.) Find out what it means to be BLESSED while you relax and exercise your creativity. You can use the book purely as a coloring book, but it also does double duty as a scripture study journal. Full-page designs are on the right page, while plenty of open space is provided alongside on the left page so you can add journal notes, if so desired.
SCRIPTURE INSPIRED DESIGNS
BLESSED: Coloring for the Soul is all about blessing – the kind of blessing the Bible describes. This adult-friendly coloring book is built on ten scriptures that give us insight into what the Bible means when it uses the word "blessed". These ten scriptures are:
Matthew 5:7
Psalm 33:12
John 20:29
Matthew 5:9
Psalm 34:8
Psalm 112:1
Luke 11:28
Proverbs 22:9
James 1:12
Psalm 119:2
50 FULL-SIZE DESIGNS
Each of the ten scriptures is used as a theme for five illustrations, and each illustration is an interpretation of a design unique to the scripture. You are first introduced to the scripture in a decorative frame. This page is great for framing or adding to a journal after you have colored it. Then you are introduced to the circular-centric design that will house the scripture. This design, which weaves together neat circles and freehand curves, incorporates a chalkboard which echoes the topic of the book: BLESSED. The design is then presented in a text-free, uncluttered way, giving you lots of big spaces to use techniques such as shading or patterning to customize the design. In the fourth illustration, the design becomes a placeholder for the actual scripture. Not only the design elements, but also the scripture verse can be colored. The fifth illustration is a free-style extension of the scripture's theme design – it encourages you to be free with your coloring as you reflect on the scripture verse.
The book includes FIFTY (50) full-size coloring pages (single sided), and all the illustrations use the circle as part of the design. If you are like me and you ask a lot of questions (e.g. WHY do you have a circle as the fundamental design element for the whole book?), then you will be happy to know that this book includes an "ASK THE ILLUSTRATOR" chapter. In this section, I try to answer some of the questions I have been asked about the book. I share information about what motivated the book, and why exploring this topic is important to me. I believe it is important to have the information in the book for those people who might not be familiar with my work or may not have access to the internet.
YOUR QUESTIONS ANSWERED
The book actually starts with the information-rich ASK THE ILLUSTRATOR chapter. It's up front in the book for those who are completely new to coloring and are a little uncertain of how to get started. The attention to this detail ensures that you can confidently give this book as a gift to someone who has never tried coloring or Bible journal activities, knowing they will be guided through the process of using the book. In this chapter, you will find answers to:
Why should I spend time coloring?
Am I too old to color?
Is "BLESSED" an adult coloring book?
Can coloring really benefit me if I am useless at art?
How do I get started?
Why did you include scripture in your designs for this book?
How should I use the reading list at the end of this book?
What are organic designs?
Why do I see circles everywhere in this book?
Which version of the Bible did you use for this book?
Have you illustrated other books?
Where can I post comments about this book?
DIGGING DEEPER (for EXPLORERS)
I love to explore and find answers to my questions. Since this project got me to dig a little deeper into the topic of BLESSING, I thought I would create an opportunity for the colorist using this book to also explore a little. I know that not everyone likes to "do research" or "go looking for answers", but I am sure that a few of the people who use my books do enjoy doing that. So I included a special section at the end of the book, just for "my kind of people". I found all the scriptures dealing with the topic of BLESSED that were not already included in the book, and I built these scriptures into a series of ready-to-color designs. And yes, before you ask, I keep the circle as the key design element for these illustrations. BLESSED is a common word in the Bible. Would it surprise you to discover that it took SEVEN full-size illustrations to incorporate all the scripture references? These seven designs work well as a reading list or starting point for your own Bible study.
SPACE for YOUR DOODLES
When I do Bible studies, I like to scribble notes and doodle – yes, I usually have strange little pen or pencil scratchings all over my page. Just in case there is someone like me out there, I designed a circle-centric NOTES page with plenty of space for doodling and scribbling notes, plus design elements you can color. You will find one of these NOTES pages next to each of the seven scripture reference pages – and I added THREE extra notes pages, just in case you have an extra big attack of the doodles.
BIGGER IS BETTER
If you are adding up all these sections in BLESSED: Coloring for the Soul as you read this, your count probably tells you this is a hefty book. It is – there is a lot of coloring fun crammed into these pages, and plenty to meditate on. This book is great for personal use, but also works well in group Bible study settings for adults and teens.
START SMALL: MINI e-BOOKS
If you are new to coloring and a bit intimidated by a BIG coloring book, I have something a lot less intimidating for you. BLESSED: Coloring for the Soul is also available as a series of FIVE mini e-books. Each mini e-book covers two of the ten scriptures you will find in the full version of the book. If the full version of the book looks too big for you to handle (although I am sure it won't be), start small. You can print the mini e-book (PDF format) on your home printer using whatever paper appeals to you. Some people like thick art paper (just check that the paper is compatible with your printer) or card stock. That way, the full page illustrations can be colored using watercolor paints, acrylics, heavy markers, or inks. (NOTE that the mini e-books (PARTS 1 to 5) are not available as paperback books.)
FULL VERSION EBOOK
Download the FULL e-version of this book from this online book store:
MINI VERSION EBOOKS
Download the e-version mini PARTS of this book from this online book store:
Order the physical (paper) version of this book from any of the stores listed below. Simply click on your preferred store name, and you will be redirected to the relevant product page. If you prefer to support your local book store, please ask the bookstore manager in your town to add this book (ISBN 9781329859661) to their store inventory.
INTERNATIONAL book stores:

SOUTH AFRICAN book stores:
BLESSED: Coloring for the Soul provides a creative way for Christians to explore the topic of "blessing" and "being blessed". The layout of this book encourages Bible study, so plenty of space is provided for your own notes, thoughts, and sketches. Be creative and expressive. Meditate on the scriptures. Doodle your thoughts. Put those thoughts and ideas into words. Scribble them as they flow. Decorate those scribbles. And don't be shy when adding color.
THE CIRCLE
The circle is the predominant theme in this book. The perfection of the circle is balanced with freestyle line sketching, giving each design some tension between the perfect (God) and the imperfect (us).
BELIEVE WITHOUT SEEING
BLESSED: Coloring for the Soul integrates scripture verses and organic, abstract design to give you a relaxing environment in which to study the Bible while being creative.
BLESSED: SCRIPTURE-BASED COLORING