CREATIVE ADVENTURES
Writing and doodling can take on a whole new meaning if you do it with company. And who better to accompany you on this creative adventure than a handful of friendly MONSTERS. You can turn simple writing and drawing exercises into memorable and enjoyable experiences with a children's journal crammed full of unusual monster illustrations.
MONSTERS ON EVERY PAGE
There are new monsters on every page. Page layouts include lined and unlined areas. Layouts are tailored to the illustrations so expect something different with each turn of the page. The line art illustrations accommodate coloring, while stimulating the imagination for drawing and writing.
PERFECT SIZE FOR KIDS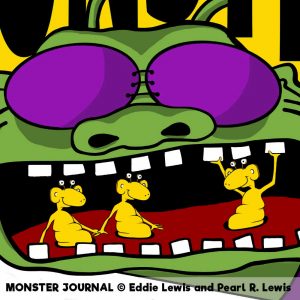 The convenient size of this journal makes it perfect for fitting in a backpack, so kids can write and doodle just about anywhere. If you are looking for a predictable kids' journal where all the pages look the same, this journal is not for you. The MONSTER JOURNAL is all about variety – it deliberately creates an environment that exercises the imagination and challenges the user to create a different style of journal entry on each page.
HUSBAND and WIFE CREATIVE TEAM
The MONSTER JOURNAL (published in 2018) is the result of the creative team effort of Eddie and Pearl Lewis. Initially, the monsters in this book were intended to live only in a music manuscript book. It wasn't too long, however, before these busy and bizarre creatures wriggled their way out of the MONSTER MUSIC JOURNAL (a full sized manuscript book for young musicians and aspiring composers). To find them a new home with less limitations (manuscript books only have staff lines to keep the monsters busy), the Lewis team created the MONSTER JOURNAL: a smaller, fun sized journal (ISBN 978-1-387-67107-6) that lends itself well to drawing or writing.
The MONSTER JOURNAL is currently not available as a download.
Order the physical (paper) version of the MONSTER JOURNAL from any of the stores listed below. Simply click on your preferred store name, and you will be redirected to the relevant product page. If you prefer to support your local book store, please ask the bookstore manager in your town to add this book (ISBN 9781329859661) to their store inventory.
INTERNATIONAL book stores:
This gallery includes a sampling of some of the page layouts you can expect to see in the MONSTER JOURNAL. To satisfy the curious, adventurous user of the book, each page layout is different. Variety, variety, and more monster-focused variety is what you will find in the MONSTER JOURNAL.
The MONSTER JOURNAL does not yet have it's own video, and the monsters are whining (as in seriously GRIPING, complete with obnoxious burps) about this. They all want to be stars, so the video is in the making. Check back soon to see your favorite monsters do their monster dance for the camera.