Fruit of the Spirit: GENTLENESS Colouring Pages
R 9.99
Gentleness is one of nine attributes of the fruit of the Spirit. This printable (PDF) package includes an adult-friendly colouring page, as well as a scripture page focused on GENTLENESS. Use this product for colouring and reflection during your "quiet time", or integrate it in a group colouring or Bible study class. (Download includes a FREE single-class licence to print for school and church educators.)
In stock

Description
The fruit of the Spirit as described in Galations 5:22-23 is associated with nine attributes. Gentleness is one of those attributes.
This printable package includes:
an A4 adult-friendly colouring page created around the word "GENTLENESS". Pond ripples and daisies form the inspiration for the hand-drawn illustration.
an A4 reflection/focus page where the content is enclosed in a ready-to-colour, decorative frame. This page introduces the reader to God's concept of gentleness through Proverbs 15:1 and Matthew 12:20. Based on the inspiration of Philippians 4:5, the reader is challenged to self-evaluate.
a copyright information page
This digital (PDF) product has a file size of 2.4 MB. Please ensure that you are able to download a file of this size before making your purchase, as all digital product sales are final and non-refundable.
Use this product for a colourful and creative Bible study, or to focus your "quiet time". It is also recommended for use with group Bible studies, Sunday school classes, and Christian social groups looking for spiritually enriching activities.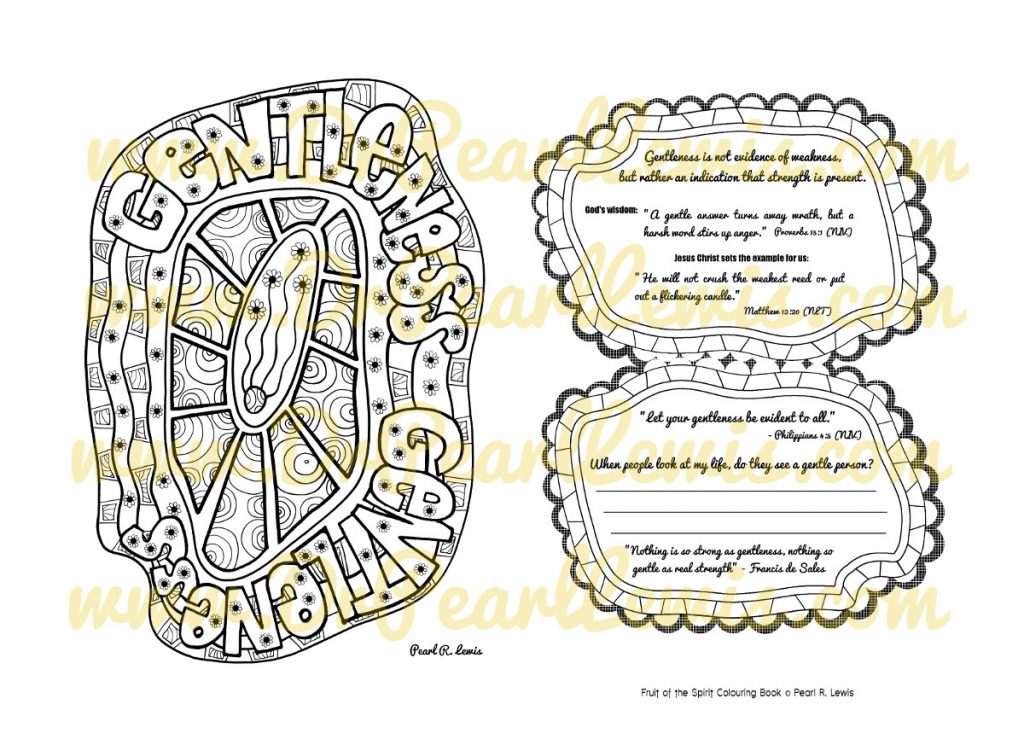 Only logged in customers who have purchased this product may leave a review.