Fruit of the Spirit: GOODNESS Colouring Pages
R 9.99
Goodness is one of nine attributes of the fruit of the Spirit. This printable (PDF) package includes an adult-friendly colouring page, as well as an activity page focused on GOODNESS. Use this product for reflection during your "quiet time" or create a group study around the scriptures and the colouring activities. (This download includes a single-class licence to print for school and church teachers.)
In stock

Description
The fruit of the Spirit as described in Galations 5:22-23 is associated with nine attributes. Goodness is one of those attributes.
This printable package includes:
an A4 adult-friendly, plant-inspired, colouring page created around the word "GOODNESS". Geometric, check patterns blend with organic plant forms in this illustration.
an A4 reflection/focus page where the content is enclosed in a ready-to-colour frame. Psalm 16:2, Acts 10:38, and 3 John 1:11 provide insight into God's idea of what goodness is. The reader is then asked a challenge question, and encouraged to answer the question after reading Luke 6:27-28.
a copyright information page
This digital product has a file size of approximately 2.9 MB. Please ensure that you are able to download a file of this size before making your purchase, as all digital purchases are non-refundable.
Use this product for creative reflection during your prayer time or "quiet time". It is also ideal as a focus sheet for your private Bible study or can be used to encourage discussion on the topic of "goodness" during a group or church Bible study.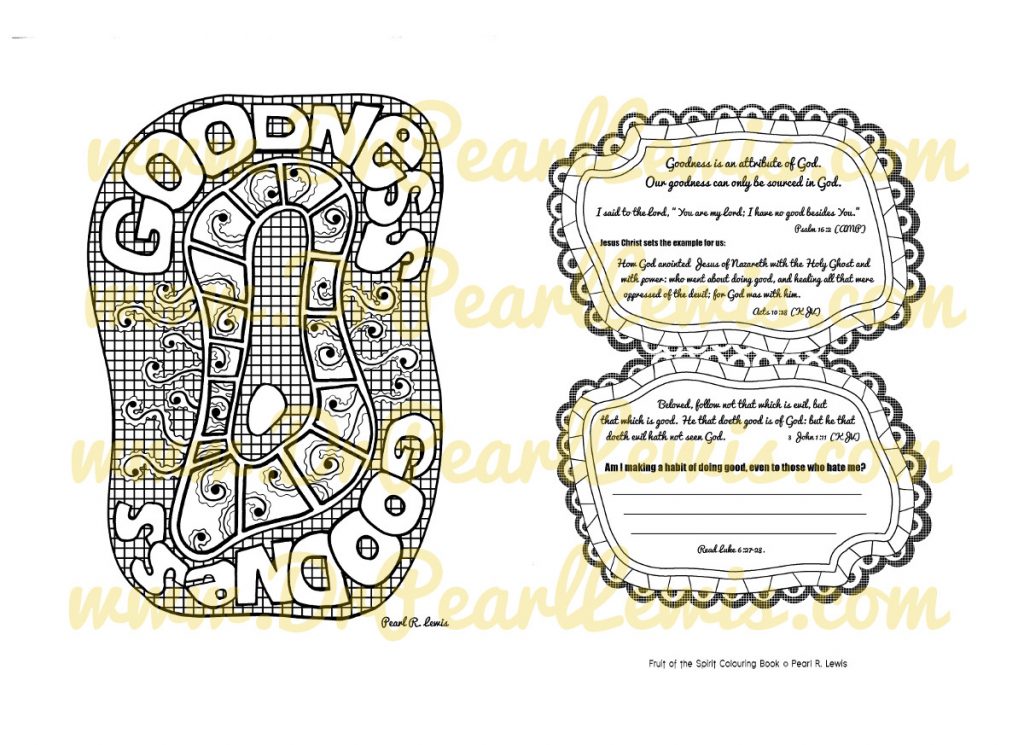 Only logged in customers who have purchased this product may leave a review.