Mountain Kingdom Discovery
R 9.49
An integrative learning activity worksheet focused on an imaginative discovery in Lesotho, Southern Africa. This worksheet includes vocabulary building, geography facts, creative writing, and colouring exercises.

Description
Creative writing, vocabulary, and the geography of Southern Africa come together in this ready-to-print, illustrated worksheet.
The PDF download includes a copyright cover page and a two-page worksheet.
Worksheet page 1: This page starts with a journal entry which describes an explorer's first encounter with a strange creature in Mokhotlong, Lesotho. The entry includes a small illustration of the creature. Students can colour this illustration, if desired. The journal entry serves as a creative writing prompt, and students are tasked with completing the entry by describing what they see when they approach the creature. The page has printed lines so students can easily complete the assignment on the worksheet page. The bottom of the page includes an information bubble about Lesotho's elevation and location.
Worksheet page 2: This is an illustrated page that focuses on vocabulary building and creative engagement. This page is designed to double as an creative exercise or colouring page. The page starts with the student being introduced to the concept of a SPECIES, after which the student is tasked with choosing their own name for the newly discovered creature's species. To build on the creative writing task given in page 1, the student is required to identify four adjectives that describe the creature shown in the illustration. Using Lesotho as the focus, the student is then introduced to: altitude, elevation, southernmost, landlocked. Three of these words are used in the information bubble on page 1, so that the students can refer back to the first page to see how these words are used. As a final mini assignment, the student is tasked with using the word "southernmost" is a sentence of their own choice.
File Size: The download is approximately 2.9 MB.
Page Format: The pages in this worksheet can be printed directly onto A4 paper. If you want to print on letter-sized paper (8.5″ x 11″), simply set your printer to "fit" or "resize" to the paper loaded in the printer.
Product PREVIEW: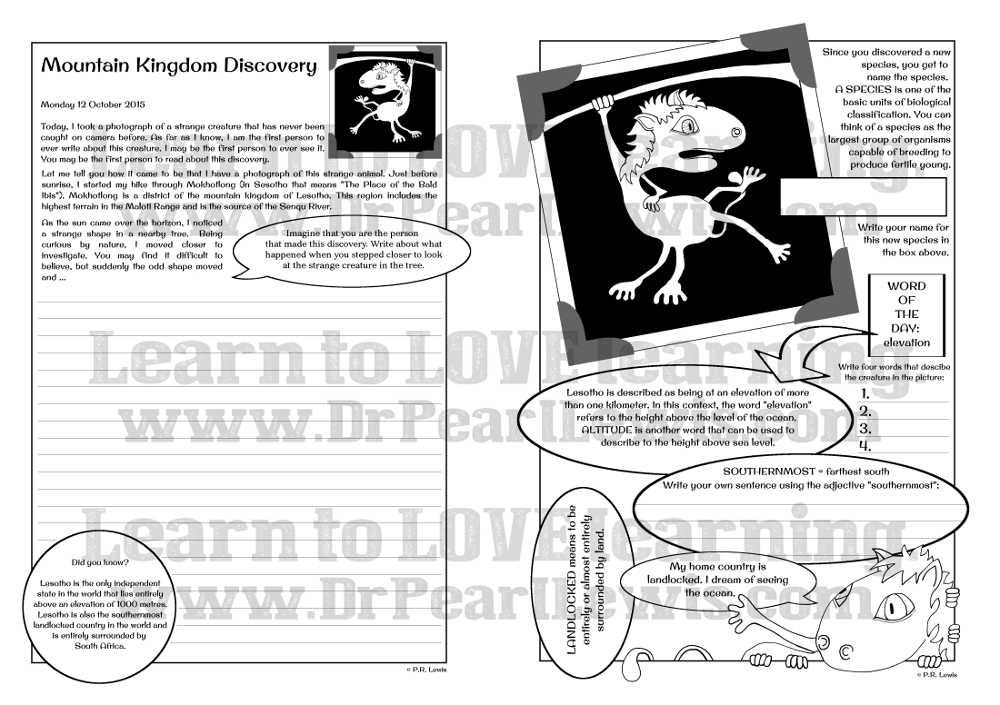 Only logged in customers who have purchased this product may leave a review.