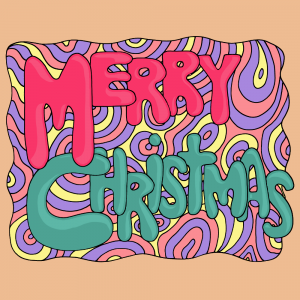 Coloring is not just for kids PLUS it's good for your health. How many times have you heard that said recently? You know it's true, but your nine-year old is adamant that he is too old to color, and dad… well, dad thinks he outgrew crayons before the turn of the century. Then grandma wants to color, but she says the adult coloring books are too detailed for her eyeglass prescription strength. The solution?
FAMILY TIME
The MERRY CHRISTMAS FAMILY COLORING PAGES were created to bring families together around the kitchen table (or on the lounge floor if you don't have a big table). The set of pages uses just one basic illustration built on the words: MERRY CHRISTMAS. The basic illustration is further evolved to include three additional skill levels. The result is an easy-to-print,  coloring activity that is suitable for the whole family. Print one page for each member of the family. Choose the page that is appropriate for each person based on their age, attention span, dexterity, and ability to take on a challenge.
BEGINNER LEVEL
BEGINNER (Level 1): This is a basic, broad-lined illustration built on the words "MERRY CHRISTMAS". There are large open areas to color, and the shapes are a mix of gently rounded and facetted. This illustration can be comfortably colored with wax crayons and colored pencils or markers. This illustration is best for the youngest members of the family or those with impaired eyesight.
INTERMEDIATE LEVELS
INTERMEDIATE I (Level 2): The BEGINNER illustration is upgraded to include some smaller areas. The use of wax crayons may become more challenging with this illustration. This illustration is best for colorists who are comfortable with staying inside lines and need a little more challenge than a BEGINNER colorist does.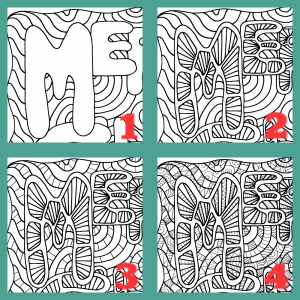 INTERMEDIATE II (Level 3): The BEGINNER illustration now has many small regions begging for color. Fine pointed pens or pencils work best for this illustration.
ADVANCED LEVEL
ADVANCED (Level 4): This page takes the BEGINNER design to new heights. You will find LOTS of small details to color on this page. The small, open areas seen in the other illustrations now boast small patterns and embellishments. If you have a family member that thinks coloring is for little kids, THIS is the page you hand to them. This is a very detailed page and likely to be overwhelming for the youngest members of the family.
MAKE IT A GAME
Get the family together, open that extra big box of colored pencils (or invest in a couple of 12-pencil sets so there is no fighting at the table), and distribute the page assignments. The entire family will be working on the same illustration, just in varying degrees of detail, so everyone can feel that they are part of the same project. The activity can be made more fun by adding restrictions for the older family members. For example, let the youngest colorist choose the colors of the letters. Everyone else must stick to this color choice for their bases colors, but are  challenged to use their imagination to integrate those colors in a creative and eye-catching way. If you have ideas for creative coloring restrictions that make this activity more enjoyable for the teens and adults, please add them in the comment section below.
CHRISTMAS BOOT CAMP
Coloring together stimulates conversation. Have you been longing for family chats, but have a family that is too glued to their phones to remember the archaic activity called conversation? Announce a Christmas Preparation Boot Camp (just don't call it "boot camp" or they may take to the hills) for the family, set aside two hours after a weekend dinner (those "I am so bored" rainy days work best for families that are new to coloring), and just do it. Inevitably, conversation will flow. It's difficult to maintain silence for a couple of hours when you are using your hands for more than just "swiping and clicking". It might start with "stop stealing my red crayon!", but eventually the debate about which color to use may lead to other more interesting topics. Give it a try. Download your MERRY CHRISTMAS FAMILY COLORING PAGES from Zisubu Artique.