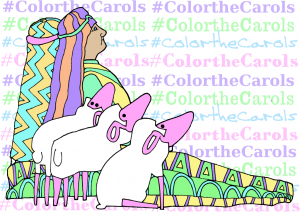 This new video includes music and images from the COLOR the CAROLS COMBO. "Come Shepherds Rise" is track 17 on the COMBO's carol CD, and the imagery in the video is extracted from the "Good Tidings" scene from the Christmas story.
SHEEP LOOK TO HEAVEN
The video unveils sheep and their shepherds, enjoying a quiet evening in the countryside. A sound from above captures their attention. With eyes turned heavenward, the men and animals listen to the announcement of the angel, calling them to rise and go and worship the newborn king.
CHRISTMAS COMBO
If you have not already acquired your copy of this Christmas COMBO, we recommend ordering the COMBO before the Christmas rush. These combo's make excellent stocking fillers for family and friends of all ages. If you want a gift set that includes stationery plus coloring extras, rather opt for the Color the Carols BIG COMBO from Tiger Music.
CHRISTMAS SHOPPING DONE EARLY
Yes, I know it's still a couple of months until Christmas, but there is something soothing and inspiring about Christmas music, so why save it to only play for a couple of weeks a year. The COMBO's CD (Unadorned Trumpet Carols by Eddie Lewis) is a beautiful collection of 49 carols, all played without musical ornamentation – the music is simple, refreshing, and deeply relaxing to listen to.
Play the CD as you navigate the crazy, stress-magnifying traffic to work. Play it as you settle down to relax and color the book of Christmas scenes. Put it on while you are cooking dinner. Hum along to the familiar carols, or sing with gusto as if you are in the shower and no-one is listening. If you are not a big fan of coloring, you can purchase this CD as a stand-alone digital album from CD Baby. Currently, the only way to purchase the physical CD is to purchase the Color the Carols COMBO (or BIG COMBO) from Tiger Music (an online music store that ships worldwide).