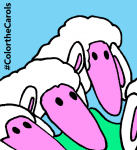 "What Child is This?" is a familiar and beautiful Christmas carol, evoking soothing feelings and possibly even a rush of nostalgia. Most people recognize the tune – it's Greensleeves, a traditional folk song of English origin. The lyrics for this carol were penned back in 1865 by William Chatterton Dix. You will find the instrumental version of this carol played by trumpeter, Eddie Lewis, on the UNADORNED TRUMPET CAROLS album – it's track 26. This album comes as part of the COLOR the CAROLS COMBO. Track 26 is the audio you will hear in this video:
The illustration used to create this video is scene 5 in the COLOR the TRUMPET CAROLS coloring book (part of the COMBO). The inquisitive animals gather around the manger, eager to learn who the new comer is. As they peer over the manger's edge to catch a glimpse of the Baby Jesus, their curiosity is rewarded as the glory from above shines down on the little one. The illustration attempts to capture some of the fascination and awe experienced by these speechless, four-legged onlookers.
If you have purchased the COLOR the CAROLS COMBO and would like to celebrate Christmas by submitting your coloring of any of the scenes for possible inclusion in this website's gallery or a future video, please use the contact form on this website to connect with me. If you haven't yet purchased the COMBO, you can click here or on the image below to go directly to the music store that is currently selling these packs.