The Spare Brothers
R 6.99
This creativity worksheet encourages the development of art and writing skills.

Description
This is a creative writing activity worksheet that includes a writing prompt and a full page, ready-to-colour colouring sheet. The worksheet is suitable for individuals or pairs. In the case of pairing, students learn tolerance and the sharing of responsibility, as they take turns to colour and work out a story ending as a team.
The PDF download includes a copyright cover page and a two-page activity worksheet.
Worksheet page 1: This page starts with a "once upon a time" writing prompt. The story starts with two fairytale characters, the Spare brothers, who see something that tickles their funny bones. The student is tasked with picking up the story where the Spares stopped telling it. This page has spaace for the children to write their version of the story.  The page also include the definition of "title", and the student is then encouraged to choose their own suitable story title.
Worksheet page 2: This is a full page illustration of the Spare brothers. It can be used as a visual story prompt and/or a colouring activity.
File Size: The download is approximately 2.3 MB.
Page Format: The pages in this worksheet can be printed directly onto A4 paper. If you want to print on letter-sized paper (8.5″ x 11″), simply set your printer to "fit" or "resize" to the paper loaded in the printer.
Product PREVIEW: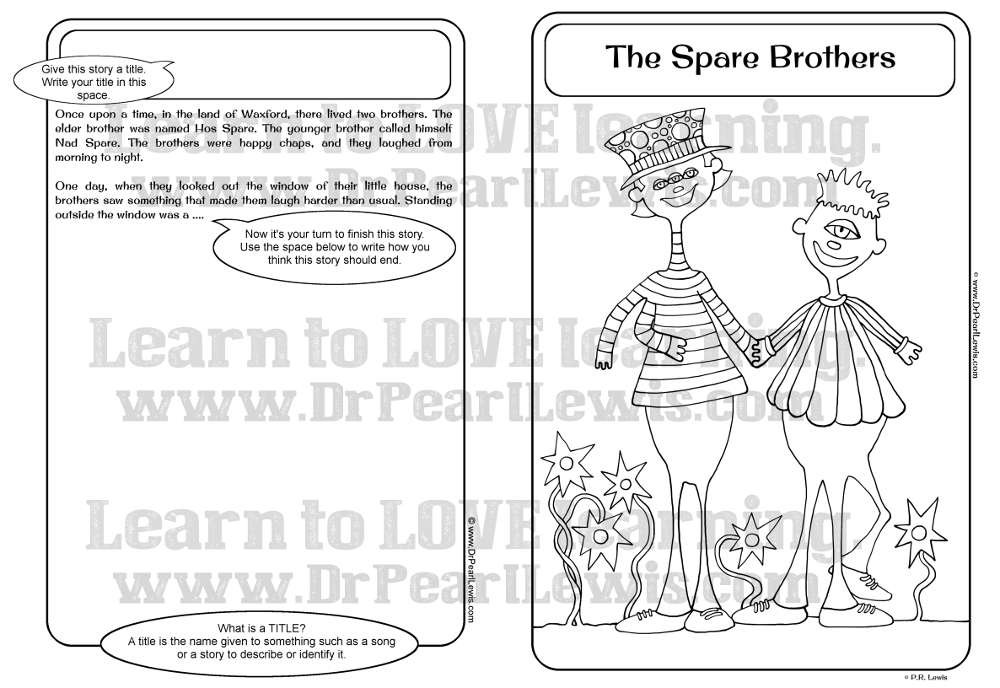 Only logged in customers who have purchased this product may leave a review.