Fruit of the Spirit: JOY Colouring Pages
R 9.99
Joy  is one of nine attributes of the fruit of the Spirit. This printable (PDF) package includes an adult-friendly colouring page, as well as a thought provoking scripture page focused on JOY. Use this product for colouring and reflection during your "quiet time", or integrate it in a creativity-focused group Bible study. (This download includes a FREE single-class licence to print for school and church teachers.)
In stock

Description
The fruit of the Spirit as described in Galations 5:22-23 is associated with nine attributes. Joy is one of those attributes.
This printable package includes:
an A4 adult-friendly colouring page created around the word "JOY". The illustration comprises a random, detailed, hand-drawn geometric pattern for hours of colouring enjoyment.
an A4 reflection/focus page where the content is enclosed in a ready-to-colour frame. The reader is introduced to a spiritual definition of joy, and reminded of our source of joy (Isaiah 61:1-3). Romans 8:35-39, Philippians 4:4, Romans 5:3, 2 Corinthians 8:2, and 1 Thessalonians 5:16 provide insight into the nature of Godly joy and how it is able to flourish in the midst of hardship and adversity.
a copyright information page
The approximate file size is 3.4 MB. Please ensure you are able to download a file of this size before making your purchase, as downloadable purchases are not refundable.
Use this product for creative reflection during your prayer time or "quiet time". It is also ideal as a focus sheet for your private Bible study or can be used to encourage discussion during a group Bible study.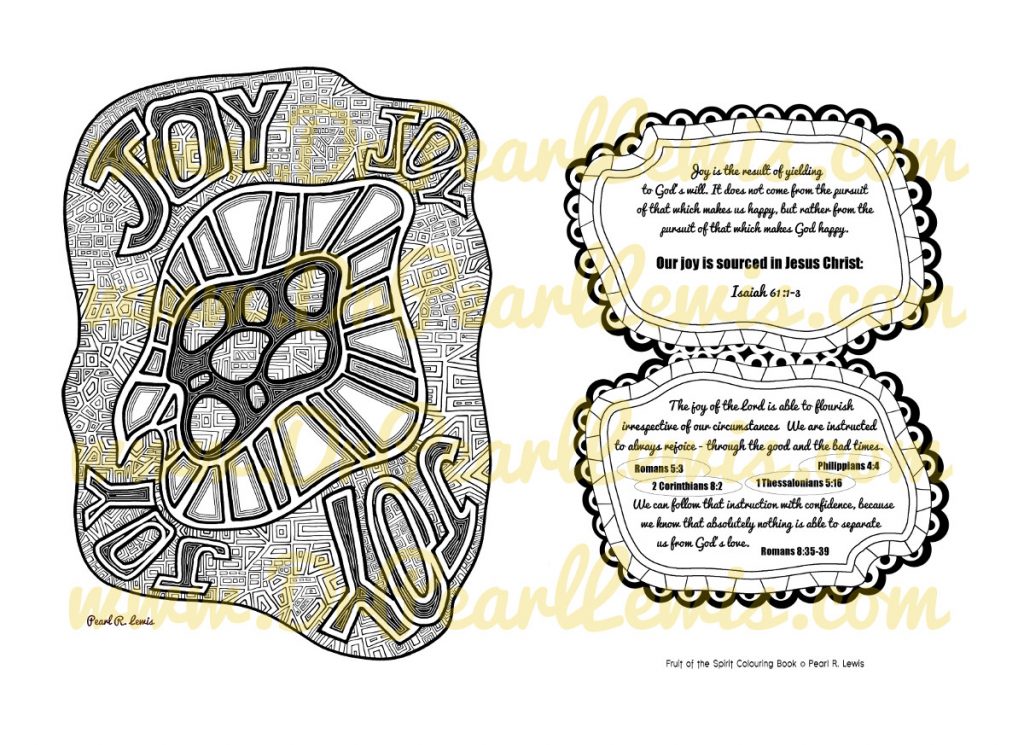 Only logged in customers who have purchased this product may leave a review.