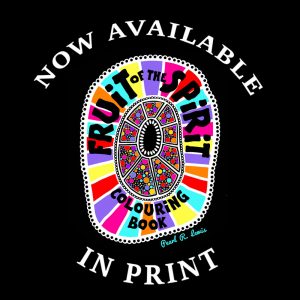 Bible study meets therapeutic coloring in my newest illustration project: "Fruit of the Spirit Colouring Book". Galations 5:22-23 forms the foundation for this book. The "fruit" mentioned in this well-known scripture is dissected, and each of the nine characteristics of the fruit of the Spirit is explored through illustration and scripture.
LOVE, JOY, PEACE, LONGSUFFERING, KINDNESS, GOODNESS, FAITHFULNESS, GENTLENESS, and SELF-CONTROL – the Bible has a lot to say about each of these characteristics. This book invites you to open your Bible and make a few discoveries of your own as you fill the  fruity illustrations with color.
The book balances full page, abstract illustrations alongside pages of Bible reading and study activities. The large illustrations feature key words from Galations 5:22-23 embedded in quasi-abstract, retro-styled designs. The study pages are designed with decorative borders, so you can continue to color while you read and reflect on what the Bible has to teach us about the fruit of the Spirit.
The "Fruit of the Spirit Colouring Book" is now available in print, and can be ordered from various online book sellers. If your favorite bookstore does not stock this book, ask them to add it to their inventory listing. I recommend ordering your copy from Lulu. Remember to check their website for any coupons before you order, as Lulu often has special deals for book lovers. If you live in South Africa, I recommend ordering from Megabooks – in many cases, their prices of my books beat any of their international competitors.