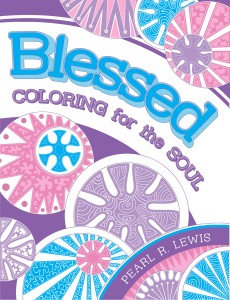 BLESSED Coloring for the Soul Goes to Video
BLESSED videos evolved naturally from the color-filled pages of the scripture-rich coloring book. Pages from BLESSED: Coloring for the Soul have been featured in TWO new YouTube videos. (If you have posted your own videos that feature or include any of my coloring pages, I would love to hear from you.) In case you have not yet acquired a copy of this book, you may be unaware that "BLESSED: Coloring for the Soul" is an adult-friendly, abstract-styled Christian coloring book that uses scripture as its foundation. All the scriptures in this book revolve around blessing and the word "blessed". This book can be used exclusively as a teen or adult coloring book, but is also especially useful as a Bible study aid for those who prefer a more creative approach to their meditation or study time.
Believe without Seeing Graphics
Believe Without Seeing is the first BLESSED video posted by Epsiwel. It focuses on one of the scriptures used in the book: John 20:29 – "Then Jesus told him, "Because you have seen me, you have believed; BLESSED are those who have not seen and yet have believed." (NIV) This video uses two of the images from section three of the book – there are ten sections. The background image is presented in different colors throughout the video, while the framed scripture image remains uncolored for contrast.
Believe Without Seeing Soundtrack
The music for this video (Duet 91 from the Celebrations CD) was written and recorded by Eddie Lewis. The track is available as a single from CD Baby.
Other BLESSED Videos
BLESSED: Scripture-based Coloring for the Soul is the second video posted by Epsiwel. This video shows all ten of the featured scriptures in the 130-page book. The scriptures float over a background that once again uses a single image from the book which is colored many different ways. The color scheme for this video centers on earth tones. The music in this video is a piece by Eddie Lewis: "Thanksgiving Interlude for Four Trumpets and Two Flugelhorns". This track is available as a single (track 7) or can be purchased as part of a CD from CD Baby.
BLESSED: COLORING FOR THE SOUL is available in the following formats:
e-book (PDF format – so it's easy to print on your home printer)
8.5″x11″ paperback (perfect bound)
8.5″x11″ coil-bound paperback