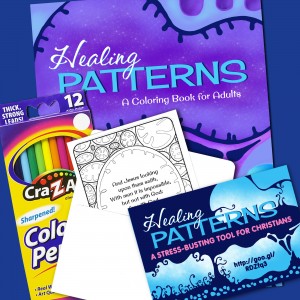 "Healing Patterns: A Coloring Book for Adults" has become the focal point for a new art therapy kit. The scripture-centered coloring book, which has been available since May 2015, has now been released as part of a ready-to-give gift set. These gift sets are currently sold in ETSY's Zisubu Artique craft store. 
While using a book like "Healing Patterns: A Coloring Book for Adults" is relaxing and therapeutic no matter what your state of health, adult coloring books are especially beneficial for those facing illness or battling through a difficult recovery period. Often people are unsure of what gifts would be appropriate for someone who is ill, facing surgery, in a rehabilitation facility, or confined to a sick bed. An adult coloring book is a great way to combine entertainment with health benefits. It doesn't require a great deal of concentration to color an illustration, so even those too medicated to enjoy much reading may still be able to engage in coloring. And an illustration can be colored in tiny increments, so a patient can do as much or as little coloring as they have energy for. An earlier blog post entitled "The Effect of Art of Healing" details some of the physical health benefits of an activity like coloring.
The HEALING PATTERNS art therapy kit was created to take the work out of getting started with therapeutic coloring. The kit brings together everything you (or the person you gift it to) will need to start coloring. Inside each gift set (packaged in a clear, re-sealable plastic bag) you will find:
One SIGNED copy of "Healing Patterns: A Coloring Book for Adults" – I have made signed copies (with a short hand-written message) available for these art therapy kits so the kits offer something different from what is available directly from the book stores (e.g. Barnes & Noble, Amazon, Lulu, Ingram, The Book Depository) in USA and Europe.
One ready-to-color greeting card and envelope – the front of the greeting card displays a design that brings together elements of one of the illustrations in the book and a scripture (Mark 10:27). The card can be colored and framed as an artwork, or used a greeting card (with or without coloring it). The card is blank inside to encourage the user to express their own thoughts, write poetry, or simply jot a note for someone else. Part of the joy of being creative lies in sharing your creative efforts with others. This greeting card is a simple opportunity for the user to benefit from a coloring exercise, while also making something useful to share with someone else.
One Healing Patterns postcard (4″ x 6″) – the colorful card is printed with a variation of the image from the back of the coloring book. The reverse side of the postcard has space for a message, an address, and a stamp. The postcard can be mailed using a standard postal stamp.
A set of pre-sharpened colored pencils (12 pencils)
A pencil sharpener (because pencils won't stay sharp on their own) – anticipating that this kit may be given as a gift to people who are not necessarily in their own home where they have access to everything they need, we included a small pencil sharpener in the kit. That way, there is no need to give up your coloring time just because a pencil tip broke or wore down.
If you don't want to try coloring for yourself and you don't know anyone you could gift an art therapy kit to, consider donating one or two kits to your local clinic/hospital or assisted living facility. Many churches also have hospital visitation programs – drop some art therapy kits at your local church and ask them to distribute the kits to people during their hospital or home care visits. Zisubu Artique ships these art therapy kits worldwide.