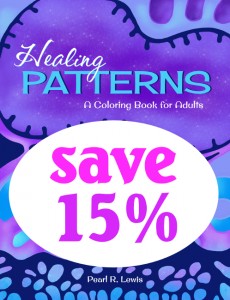 Save 15% on a copy of "Healing Patterns: A Coloring Book for Adults" this week. The good news is that our printers (Lulu.com) are hosting a book sale, so you can stock up on all the books you need this summer.
Use this coupon code at checkout to take advantage of the 15% discount: LASAGNA. This "LASAGNA" sale ends 30 July 2015.
Thinking bigger than what you need for yourself? "Healing Patterns" is a spiritually uplifting coloring book suitable for adults and older children. The book combines scripture with therapeutic, abstract coloring pages. "Healing Patterns" makes a useful and inexpensive gift for people who are recovering from illness, or those who are interested in managing their stress levels in a creative way. If you don't know anyone personally who could benefit from such a gift, consider donating a few copies to where there is a need such as a hospital, retirement home, rehabilitation center, or your local church. Lulu has a special discount for those with a generous spirit who want to gift copies of books to others. On offer is the "Buy THREE, get ONE free" discount. Put four copies of the book in your basket, enter coupon code TRGE15 at checkout, and only pay for three copies.
Not sure if  "Healing Patterns: A Coloring Book or Adults" is right for you or your loved ones? Read more about this book here, or browse the entire HEALING PATTERNS section of this website.