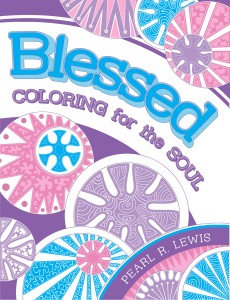 "BLESSED: Coloring for the Soul", my latest book of abstract illustrations, is now in print. This adult coloring book is available in coil-bound and perfect-bound paperback format. There is also a digital version for those who prefer to print their own book at home.
Curious about what it means to be BLESSED, but don't see yourself as a serious Bible student? Now is your chance to explore what the Bible has to say about this topic in a colorful, creative way. "BLESSED: Coloring for the Soul" includes fifty  ready-to-color, full-page designs which gracefully weave together scripture and organic, abstract illustrations.  This is a coloring book, so obviously the focus is on providing a space for you to express yourself with color. However, for coloring to be as relaxing and therapeutic as it should be, it makes sense that you be thinking encouraging, uplifting thoughts while you color. As you fill the pages of "BLESSED: Coloring for the Soul" with your choice of vibrant colors, you have the opportunity to reflect on scripture. The fifty full-page illustrations are built around ten core scriptures. Each scripture reveals a little of what it means to be blessed.
The scientist in me is always asking questions, so an "Ask the Illustrator" chapter was inevitable. "How" and "why" questions are a natural part of how I think,  and I expect that a few of you are like that, too. You will flip through a book and immediately have questions about the designs or the other content of the book. When I wrote this chapter, I tried to answer a few of the questions I might ask. Given that book space is limited, I didn't address a lot of questions, and left some to be answered on this blog. If the book doesn't satisfy your curiosity, and I haven't covered your question in a blog post, please do send me your question via this website's contact form.
For the coloring enthusiasts that love a little extra, you will find a BONUS eighteen-page, illustrated Bible reading guide at the back of "BLESSED: Coloring for the Soul". This reading (or study) guide blends coloring spaces with Bible references. If you are not interested in following up on the topic of blessing in the Bible, you can simply color the reference pages (which are decorated to match the theme of the book). However, if you want to know more about what God has to say about blessing, the reference list gives you a starting place for looking up the topic in the Bible. You can look up as many of the scriptures as you like, and meditate on what you have read as you color. The study guide is a simple way to start your own adventure of discovering the truths buried in the Bible.
"BLESSED: Coloring for the Soul" is all about the joy of coloring abstract illustrations, but it also offers soul nutrition. This adult coloring book encourages you to relax and consciously meditate on God's Word, while you play with color and tap into the many health benefits of art therapy.