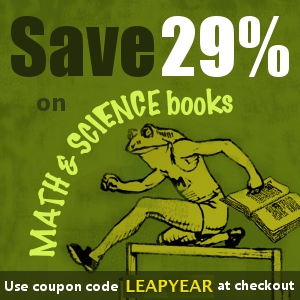 We patiently wait four years for a Leap Day to roll around. The 29th of February plays host to this special day. Our typical year has seemingly expanded to include an extra day. But how does a 365 day year magically become a 366 day year?
The "year" as we know it is the time is takes for our planet to revolve around the sun. The year we are accustomed to – the year with 365 days – is actually the revolution time rounded to the nearest whole day. In reality, it actually takes Earth a little longer than 365 days to complete the journey around the sun: 365.242190 days to be exact. We choose to end our year after 365 days and carry the quarter of a day. After four years, those extra 0.242190 days add up to approximately a whole extra day: the Leap Day. Too many approximations can cause problems with our calendar, so to compensate for the fact that 0.242190 is not exactly one quarter, some leap years are skipped.
Leap year folklore and traditions are as varied as the cultures they are associated with. For example, leap day is traditionally the day that women are free to propose marriage. If traditions are allowed to dictate social rules, then a man dare not refuse such an unusual proposal unless he wants to lavish the brave lady with gifts and max out his credit card.
How do we know which years are leap years?
In the Gregorian calendar, a leap year is identified by checking if the year is divisible by four. For example, 1945 was not a leap year, but 1948 was a leap year. If you divide 1945 by 4, the quotient is 486.25 which is not a whole number. Dividing 1948 by 4 yields 487, proving that 1948 is indeed a leap year. There is an exception to this simple rule. Years that are divisible by 100, but not divisible by 400, are not leap years. For example, the year 2000 was a leap year. If you test it, you will see that it is divisible by 4, 100 and 400. The year 2100 will not be a leap year as it is not divisible by 400, even though it is divisible by 100 and 4.
In celebration of adding the quarters to get a whole day, Lulu.com is offering 29% off its wide selection of books. Celebrate the day by expanding your library and investing in knowldge for you and your family. Use the coupon code LEAPYEAR at the checkout to access the leap year discount.