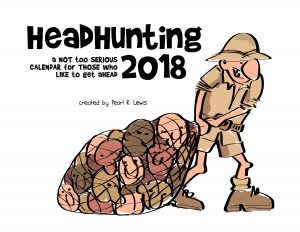 Daily Headhunting
You have to check a calendar every now and again, right? You might as well derive maximum health benefit from this tedious task. Laughter is good for you, isn't it? So a healthy calendar might throw some laughs your way. And challenging your mind is good for you, is it not? So a healthy calendar might exercise your mind from time to time with questions and puzzles that stimulate your problem-solving skills. And broadening your vocabulary is not too bad for you either, right? So a healthy calendar might get you thinking about words and idioms that you haven't thought about in years, or which you have never heard before.
Healthy Calendars
The HEADHUNTING 2018 CALENDAR does all this and more. The wall-sized calendar is illustrated with bizarre "heads" from my HEADHUNTER Collection of line drawings. These large-sized illustrations are perfect for coloring, and will appeal to people of all ages. If you want an extra dose of healthy on top of the good stuff already mentioned, pick up some colored markers and store them near your calendar. (If you keep your calendar on your fridge, you can glue small craft magnets to your favorite colored markers and keep the markers on the fridge alongside the calendar.) Coloring is a relaxing, therapeutic activity that your body and mind can benefit from at any time. Add a bit of color to your calendar while you wait for your first cup of the coffee to brew. Add a bit more as you wait for supper to cook. Then stop by and add yet another dash when you steal into the kitchen for that midnight snack. You are free to take all month to color one head! To learn more about the health benefits of coloring, read this article about the effect of art on healing. If you don't like color, stick with the uncolored line art, but if you want EXTRA BENEFIT from this calendar, go ahead and color like crazy.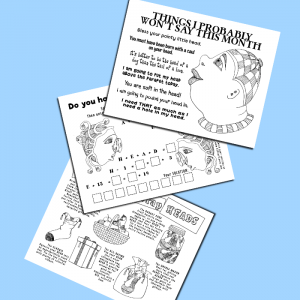 This is a 12-month calendar in the landscape 11″ x 8.5″ format. As you turn the page to each new month, you will encounter a new "head-focused" word or number activity that is integrated with a peculiar (yes, the art may seem a little odd to those who don't use their imaginations too often) head illustration. If you want to get aHEAD, then you have to get your HEAD into top gear. This calendar is all about helping you do that in a light-hearted, low stress kind of way. This calendar involves the kind of head-scratching that the whole family can enjoy. Challenge each other to use the new words or idioms you discover. See who can solve that month's puzzle first. And, for those who just NEED to know if they are right (you know who you are), you can find the puzzle solutions right here on this blog. The solutions will be posted in the relevant month. Just relax and take your time, else it may end up feeling like an exam.
Find Calendar Puzzle Solutions Right Here
If you are not in the habit of checking this blog regularly, do yourself a favor and subscribe. There is a SUBSCRIBE button on this very page, so its as easy as clicking a button. Subscribe and you will get the puzzle solutions delivered straight to your email inbox.  Ahh… yes! Convenience!
Where to Find the HEADHUNTING CALENDAR
The HEADHUNTING 2018 CALENDAR is already available from the online Lulu Bookstore.  Get your Christmas shopping completed early this year. You can scratch everyone off the list in one quick shopping trip. Want to leave your colleagues, parents, besties, neighbors, aunts, and uncles unsure whether they should scratch their noggin or laugh their nut off? HEADHUNTING is for everyone, so join the hunt!