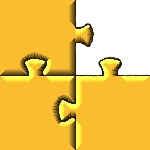 Puzzles are enjoyed by everyone from grandma to your toddler. Classrooms certainly don't have exclusive rights over them. While perfect for building class spirit and developing team work skills within the classroom environment, linear equation jigsaw puzzles are even more useful at home.
If you home school your children, integrate the puzzles in your home school lesson plan to spice up traditional algebra lessons. Parents with children who show reluctance to do their algebra homework can encourage an interest in the subject by introducing these puzzles as part of a reward system. For example, for every 3 traditional equation worksheets completed, the child could earn the opportunity to complete a linear equation jigsaw puzzle instead of a worksheet.
Does your family enjoy building puzzles together? Take it to the next level by completing a linear equation jigsaw puzzle as a family. This type of family activity helps encourage an appreciation for mathematics, and teaches children that the topics they deal with "in school" are not for exclusive use in school.