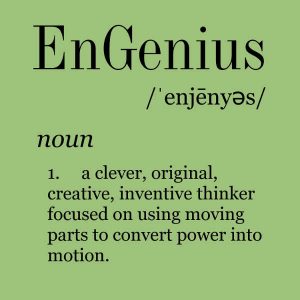 BEST SELLING DESIGN
One of Boffin Academy's  best selling designs of all time is the EnGenius I design. This simple, monotone design blends the definition of engenius with line drawings of vintage locomotives. EnGenius 1 is part of a series of EnGenius designs that you can find in the ENGINEERING section of the store.
While many people associate terms such as engineering, invention, and locomotion with males, it is interesting to note that this design doesn't only sell to adult males. It's a hot favorite for children's t-shirts (and not only for the boys' market), and is a top selection for teen and adult female shirts.
DEFINITION of ENGENIUS
In case you are unfamiliar with the term, an engenius (a term coined by Pearl R. Lewis for this design series) is simply defined as: a clever, original, inventive thinker focused on using moving parts to covert power into motion. The word is derived from the fusion of "engineer" and "genius", and is used to describe individuals with a strong leaning towards creativity and innovation in the context of a mechanical environment.
BOFFIN ACADEMY UPDATES
If you are interested in being alerted when new designs are added to Boffin Academy, please subscribe to this blog. You will find a "subscribe" button alongside this post. By subscribing, you will automatically receive notification of new posts in your email inbox. If you want to learn more about what Boffin Academy is and who it is intended to serve, I recommend reading this post.