COLOR the TRUMPET CAROLS by Eddie Lewis and Pearl R. Lewis is available from various online book and music stores. You can purchase the book on its own, or as part of a set (COMBO) with the recommended CD.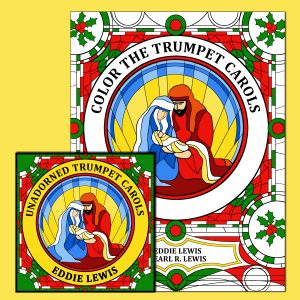 The COLOR the CAROLS COMBO is gift set that includes COLOR the TRUMPET CAROLS (book) and the recommended music CD (UNADORNED TRUMPET CAROLS). This set is available from Tiger Music Store at a special introductory price. Tiger Music Store is an online music store which ships internationally. Order early to ensure your combo is delivered before Christmas.
If you prefer to buy COLOR the TRUMPET CAROLS (the book) on its own, we recommend shopping at:
AMAZON
The Book Depository
(ships worldwide for FREE)
Barnes and Noble
UNADORNED TRUMPET CAROLS by Eddie Lewis is available from most online music vendors and streaming services. You can buy the full CD as a download, or select only the tracks you prefer from CD BABY.