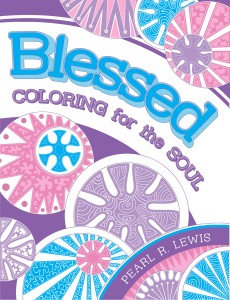 BLESSED: Coloring for the Soul is all about blessing – the kind of blessing the Bible describes. This adult-friendly coloring book is built on ten scriptures that give us insight into what the Bible means when it uses the word "blessed". These ten scriptures are:
Matthew 5:7
Psalm 33:12
John 20:29
Matthew 5:9
Psalm 34:8
Psalm 112:1
Luke 11:28
Proverbs 22:9
James 1:12
Psalm 119:2
The book includes FIFTY (50) coloring pages (single sided), and all the illustrations use the circle as part of the design. If you are like me and you ask a lot of questions (e.g. WHY do you have a circle as the fundamental design element for the whole book?), then you will be happy to know that this book includes an "ASK THE ILLUSTRATOR" section. In this section, I try to answer some of the questions I have been asked or might ask myself. I share information about what motivated the book, and why exploring this topic is important to me. I will try to include some of that information in the FAQs on this website, but I also wanted to have the information in the book for those people who might not be familiar with my work and may not have access to the internet.
Each of the ten scriptures is used as a theme for five illustrations, and each illustration is an interpretation of a design unique to the scripture. You are first introduced to the scripture in a decorative frame. This page is great for framing or adding to a journal after you have colored it. Then you are introduced to the circular-centric design that will house the scripture. This design, which weaves together neat circles and freehand curves, incorporates a chalkboard which echoes the topic of the book: BLESSED. The design is then presented in a text-free, uncluttered way, giving you lots of big spaces to use techniques such as shading or patterning to customize the design. In the fourth illustration, the design becomes a placeholder for the actual scripture. Not only the design elements, but also the scripture verse can be colored. The fifth illustration is a free-style extension of the scripture's theme design – it encourages you to be free with your coloring as you reflect on the scripture verse.
I love to explore and find answers to my questions. Since this project got me to dig a little deeper into the topic of BLESSING, I thought I would create an opportunity for the colorist using this book to also explore a little. I know that not everyone likes to "do research" or "go looking for answers", but I am sure that a few of the people who use my books do enjoy doing that. So I included a special section at the end of the book, just for "my kind of people". I found all the scriptures dealing with the topic of BLESSED that were not already included in the book, and I built these scriptures into a series of ready-to-color designs. And yes, before you ask, I keep the circle as the key design element for these illustrations. BLESSED is a common word in the Bible. Would it surprise you to discover that it took SEVEN full-size illustrations to incorporate all the scripture references? These seven designs work well as a reading list or starting point for your own Bible study. When I do Bible studies, I like to scribble notes and doodle – yes, I usually have strange little scratchings all over the page. Just in case there is someone like me out there, I designed a circle-centric NOTES page with plenty of space for doodling and scribbling notes, plus design elements you can color. You will find one of these NOTES pages next to each of the seven scripture reference pages – and I added THREE extra notes pages, just in case you have an extra big attack of the doodles.
If you are adding up all these sections in BLESSED: Coloring for the Soul as you read this, your count probably tells you this is a hefty book. It is – there is a lot of coloring fun crammed into these pages, and plenty to meditate on. This book is great for person use, but also works well in group Bible study settings for adults and teens.
If you are new to coloring and a bit intimidated by a BIG coloring book, I have something for you. BLESSED: Coloring for the Soul is also available as a series of FIVE mini e-books. Each mini e-book covers two of the ten scriptures you will find in the full version of the book. If the full version of the book looks too big for you to handle (although I am sure it won't be), start small. You can print the mini e-book on your home printer using whatever paper appeals to you. Some people like thick art paper (just check that the paper is compatible with your printer) or cardstock – that way, the full page illustrations can be colored using watercolor paints, acrylics, heavy markers, or inks.